The Best Biltong & Droewors In The UK
Winners - Lux Life Magazine Best Authentic Biltong Provider - Surrey Food & Drink Awards 2022 (We deliver UK Wide).
Real Reviews From Our Customers
Loyal customers, they don't just come back, they don't simply recommend you, they insist that their friends and colleagues do business with you. Here are just some of the hundreds of reviews.
Some Of the Teams We
Supply With Biltong.
Because our biltong is super-packed with protein, it's a popular choice for those engaged in any form of training. Our customers include some well known sporting teams and we're proud to have been invited to supply them with their biltong requirements.
IF YOU ARE PART OF A TEAM, AN INFLUENCER ON SOCIAL MEDIA AND ARE INTERESTED IN A COLLABORATION, EMAIL US AT TEAMS@BILLYTONG.COM
With Over 20 Biltong Products To Choose From You're Spoilt For Choice. Here's A Selection
Billy Tong's biltong is the best choice for customers looking for a high-quality, protein-packed delicious snack. Our biltong is made from the finest cuts of meat and is cured to perfection using an age-old South African recipe. You can learn more about our story by visiting our About Us page.
Our commitment to using traditional methods and the freshest ingredients sets us apart from other biltong brands. Plus, our biltong is protein-rich and low in fat, making it a healthy choice for snack time. Try Billy Tong's biltong today and taste the difference for yourself.
Reasons Why So Many Love Our Biltong
Our fully traceable grass-fed beef is hung for 28 days prior to the air-curing process, ensuring our biltong always has a fabulous moist taste packed full of flavour.
With around 54g of protein for every 100g of biltong and less than 1g of carbs, sugar and salt, biltong packs a powerful and healthy way to snack.
We use a range of natural herbs and spices during our preparation process to bring you innovative flavours guaranteed to excite the laziest of tastebuds!
Our reduced air-curing time ensures a fabulous moist taste packed full of flavour, unlike the extended air-curing found in supermarket offerings.
Innovative Flavour Choices
16 fabulous flavours of biltong plus 4 flavours for our droewors. Our original flavoured biltong comes in three finishes, Medium Dry – little fat, Moist – medium fat and Wet & Fatty.
Our freshly made products are made bi-weekly to a South African recipe, using a process that ensures awesome consistency across all of our products.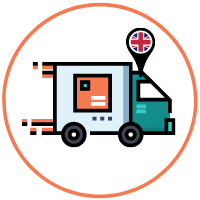 FREE Shipping To UK Mainland
We've always believed that the price you pay should where possible include shipping. Shipping to the UK Mainland is FREE with a small charge made to Highlands & Islands.
Biltong is perfect for inclusion in many diet plans. It's both Keto and Paleo-friendly with its high protein, low-fat content. Perfect for snacking.
Perfect For Post-Training Snacking
As athletes know, protein is needed to rebuild muscle after a workout and within 20 minutes of post-training. Biltong is excellent in assisting this process.
Our Most Popular Products