We are a UK brand which has been born out of necessity. It was time to create a traditional flavoursome biltong that could be enjoyed in the UK.
After Looking At All The Alternatives
Our Journey Began In 2019
Born in Port Elizabeth and living his formative years in South Africa, Biltong and Droewors was a staple food for the Billy Tong co-founder Mark Pollak.
Mark came to live in the UK back in 1992 and always found that the taste of biltong being sold in the supermarkets and pubs of the UK appalled him. "Dry and tasteless it was like eating cardboard, it's cured for far too long which removes the moisture"
So Mark worked with the supply chain to create biltong that was moist and tasty, using a similar beef that he was nurtured on as a youngster.
The result? Unbelievably moist and succulent flavours packed full of nutrients and with virtually no fat or carbs.
The Billy Tong Family Is Born
Taking Billy Tong To Market
Whilst Mark had the expertise and knowledge to create a fabulous range of biltong and droewors, taking the product to an online market needed expertise that he didn't possess.
As luck would have it, Mark's co-founder Richard, a long-term business colleague who ran his own digital-media company and who had spent several years in South Africa, tasting authentic biltong, knew precisely what Mark was trying to do in the UK. Billy Tong became the vehicle to bring their products to a UK audience.
Authenticity In Everything We Do
Billy Tong's biltong has a shelf life of 30 days. That's shorter than most other biltong products being sold but is the trade-off that the team at Billy Tong is prepared to offer their customers.
Biltong, purchased from supermarkets and the like, normally has a 12-month shelf life which does nothing for the taste and consistency. Reducing the shelf life to 30 days provides so many more benefits when it comes to moistness, flavour and the maintenance of nutrients.
Because of the reduced shelf life of our product, we only make our Biltong in small batches to ensure complete customer satisfaction. This can sometimes create an extra day or two in shipping as we wait for the latest batch to be available. We only ever want to ship ultra-fresh Biltong to our clients.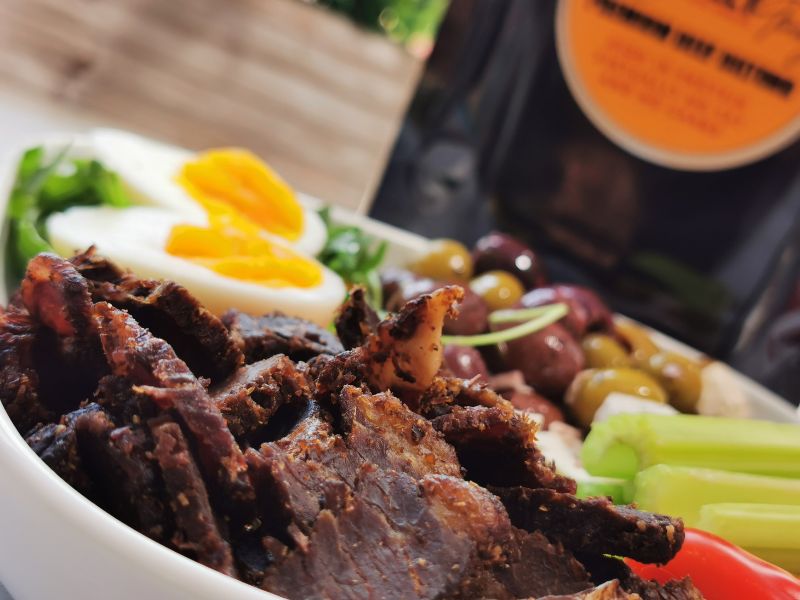 The Flavour Comes From The Secret Recipe
It's All In the Preparation
Our grass-fed beef comes from registered farms with full traceability and is shipped to our UK-based production facility.
Hung for 28 days, this succulent meat then has our carefully selected herbs and spices introduced in a special and secret process. This ensures the richness and wholeness of flavour are maintained throughout the following four-day air-drying process.
After the air dry curing is complete, our Biltong is then sliced, and each batch is tested for flavour and freshness, after which it is then individually packed and ready for sale.
The Management Team Of Billy Tong
Co-Founder
Head Of Production & Dispatch
Co-Founder
Head Of Marketing & Technical Support
CTO - Chief Tasting Officer
Our Billy Tong Family Love Us